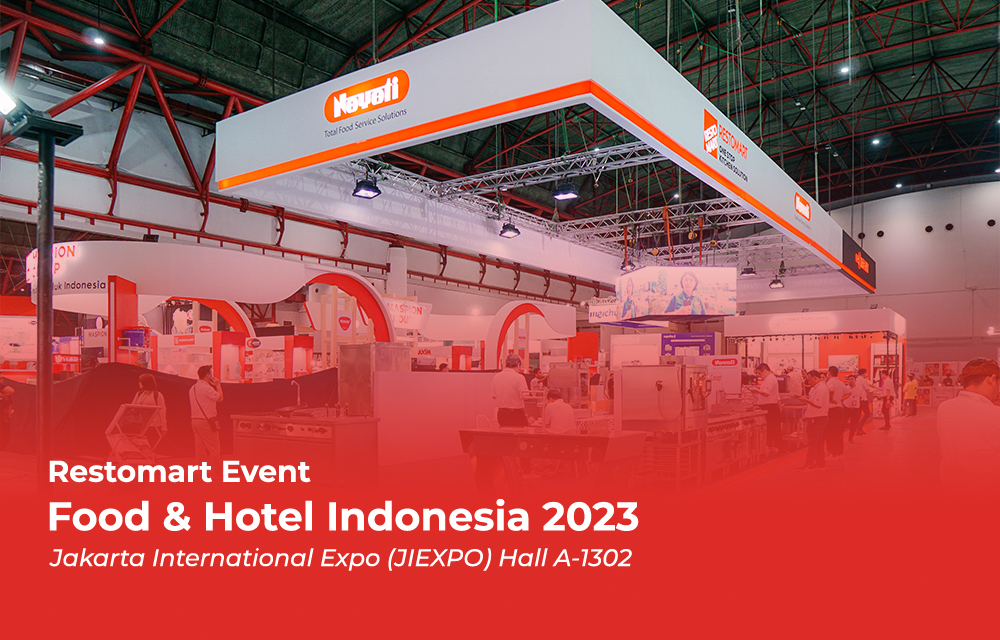 Food & Hotel Indonesia (FHI) 2023 returns for its 17th edition. Hundreds of national and international companies participated in the 2023 Food & Hotel Indonesia Exhibition (FHI), which officially opened on Tuesday, 25 – 28 July 2023, at the Jakarta International Expo (JIEXPO). Restomart joined this exhibition with Nayati, Restopresso, Gourmet Rental, and Bakomatic at Hall A-1302 on this occasion. Thank you for your attendance and enthusiasm. We are very happy to get 948 guests attendance at our booth.
There are some differences in this year's event. This year, Restomart booth comes with a new appearance. Our booth has an open space concept on the layout so that consumers who come can discuss and consult comfortably at our booth.  One of our brands, Restopresso, is a coffee provider trusted as La Cimbali Official Distributor in Indonesia. As One Stop Coffee Solution, within a year, Restopresso has been trusted several times to perform installations, consultation, and after-sales services for restaurants, hotels, and coffee shops.
At that event, we proudly highlight our best product called Bakomatic. Bakomatic is Nayati oven equipment that combines various excellence and know-how of the bakery industry. Coming with a stackable oven design, allowing users to benefit from its modern technology and user-friendly interface to make bread. It comes with two options: electric and gas-powered.
Another brand we have is Gourmetrental, a professional kitchen equipment rental provider that used to be trusted for extraordinary events. Nowadays, It is an ingenious solution for an event organizer that usually wants professional kitchen equipment for a short period. An event organizer will get a more valuable and luxurious venue for the whole experience with the professional gear we provide. We always ensure that the equipment booked and other rented items are in excellent condition.