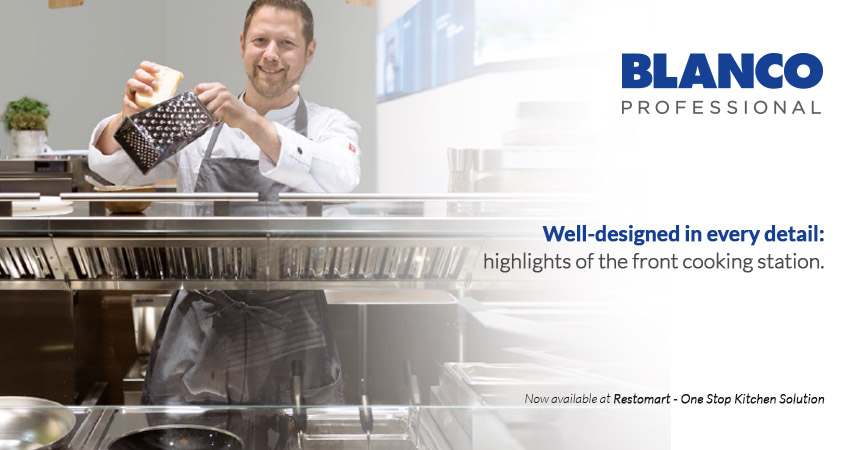 BLANCO COOK STATION – a recipe for success with a new cooking experience
Blanco please anyone who is looking for a perfect solution for outstanding front cooking has come to the right place. As the core piece in a comprehensive mobile cooking system, this station surpasses all requirements for cooking in front of diners in many sectors.
With its high-performance extraction and filter system, this mobile show cooking station is designed for anyone who wants to experience more out of their culinary service. Exquisite equipped, it is extensible with anything and everything which makes mobile front cooking shine.
The station is user-friendly with offers simple handling, the best load capacity in the professional sector and complete options for regulation-compliant hygiene. Blanco Kitchen Station has taken technology and design another step forward. The optimized weight, multi-stage grease and odor filter system with flat charcoal filter pads are even more powerful, more installation-friendly and more economical than its predecessor. Blanco Kitchen Station will catch everyone's eye in any dining space with its changeable and high-grade front paneling.

It's also very suitable for Nayati Amicus and Meritus series. BLANCO COOK STATION can feature two, three or four table-top cooking units – for maximum scope in creating your cooking show and optimum use, even when space is limited. Perfect processes form an essential part of a successful front cooking concept. Here, you will find all you need to optimize processes, save time and improve quality.