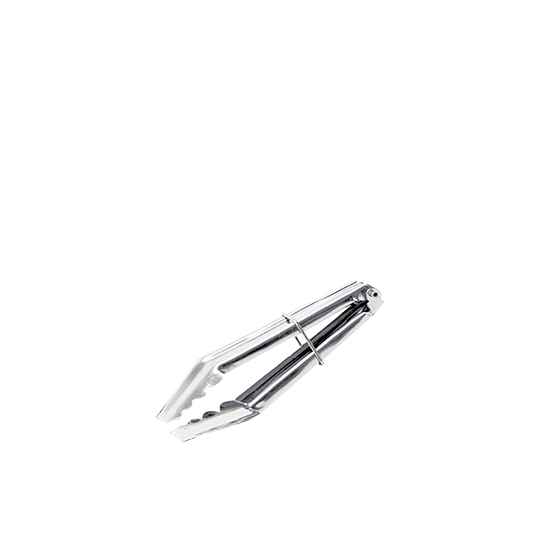 Mini Locking Tongs 9cm
sku: 2716070
Mini cocktail tongs

Stainless steel

Sliding loop lock

Great for picking up lemon slices, ice cubes, olives and cherries
Additional Information
| | |
| --- | --- |
| Material | Stainless Steel |
| Color | Silver |
| Dimensions | 90 mm |
RELATED ITEMS
2012016
Made of sturdy stainless steel, this punch bowl is built to last. The mirror finish adds shine and an elegant flair to any display. Featuring an ample capacity to minimize refills, this stainless steel punch bowl is an ideal addition to any banquet, reception, hotel lobby, or party.
Compare
QUICK SHOP
1516007
The handles are functional, stylish and allow handles to hang for easy storage. The small size offers many uses in the kitchen or at the table for serving. Perfect on the breakfast table to dispense jam, syrup or honey. Equally useful to dip and pour clarified butter,condiments or serve dessert toppings.
Compare
QUICK SHOP
0815047
This product is composed of: 18/10 stainless steel cover, chromeplated warmer & rack, and ovenproof glass dish. A beautiful master piece on the buffet table for parties and family gatherings. Ideal gift to family and friends too.
Compare
QUICK SHOP
1516040
Use this 6″ stainless steel tong for buffets and self-serve stations at your restaurant or catered event. This tong's rigid grips are perfect for selecting fruit, vegetables, cheese cubes, deli meat cubes, candies, garnishes, salad toppings, and other cold foods. Thanks to its 6″ length, this tong is easily manageable while keeping guests' or servers' hands safely away from your food! Made of stainless steel, this durable tong is built to last! Plus, its simple…
Compare
QUICK SHOP
0817077
Every product that Zebra Thailand manufactures is the highest possible "Quality". Made in Bangkok in their ISO 9001 certified factory, the idea that a product could be made for a lower cost using inferior materials doesn't matter to Zebra. They've built a reputation based on 100% quality & design, and it really shows. Everything is made to last 50+ years. In many ways, Zebra quality reminds us of products made in America decades ago, before…
Compare
QUICK SHOP
0911086
Made of durable corrosion resistant shiny finished stainless steel material Can be conveniently stored on pot rim or hung on rack Used for small condiments, or large soup pots Dishwasher safe and easy to clean
Compare
QUICK SHOP
1019056
Useful in any kitchen and particularly important for pasta preparation, this stainless steel spaghetti tong is an essential item for any commercial kitchen.
Compare
QUICK SHOP
0817072
With smooth rounded corners and a seamless construction, this Rectangular Tray 18″ offers a sleek, sophisticated backdrop for your most popular culinary masterpieces.
Compare
QUICK SHOP