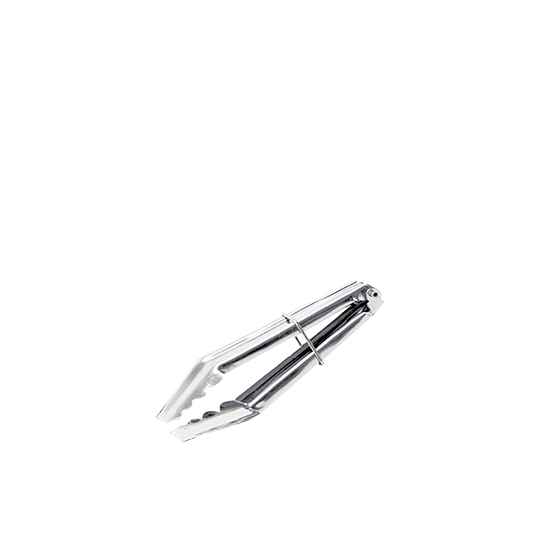 Mini Locking Tongs 9cm
sku: 2716070
Mini cocktail tongs

Stainless steel

Sliding loop lock

Great for picking up lemon slices, ice cubes, olives and cherries
Additional Information
| | |
| --- | --- |
| Material | Stainless Steel |
| Color | Silver |
| Dimensions | 90 mm |
RELATED ITEMS
1019056
Useful in any kitchen and particularly important for pasta preparation, this stainless steel spaghetti tong is an essential item for any commercial kitchen.
Compare
QUICK SHOP
0818121
These are accessible with us in various terms to meet the requirements of our domestic customers. These chemicals are pure as they are procured from pure chemical substance.  These give constant, undisturbed, uniform blue flame without any deposition of soot or smoke. This is basically a fluid kind of gel that is used for various purposes.
Compare
QUICK SHOP
0815047
This product is composed of: 18/10 stainless steel cover, chromeplated warmer & rack, and ovenproof glass dish. A beautiful master piece on the buffet table for parties and family gatherings. Ideal gift to family and friends too.
Compare
QUICK SHOP
1516007
The handles are functional, stylish and allow handles to hang for easy storage. The small size offers many uses in the kitchen or at the table for serving. Perfect on the breakfast table to dispense jam, syrup or honey. Equally useful to dip and pour clarified butter,condiments or serve dessert toppings.
Compare
QUICK SHOP
0812151
Our stainless steel rice serving bowl is made by Zebra-Head using the finest materials and craftsmanship. It has a nice heavy, solid feel. Superior quality overall, will last for many years. Pictures are hard to capture the high quality. The lid feels strong and the top knob has a beautiful "Zebra Thailand" stamp in both English and Thai, with the Zebra logo. The bowl has nice flared handles for ease of carry, and the wide,…
Compare
QUICK SHOP
1613046
Keep your drinking water with Twin Weston Station that can be used for parties and traveling. Twin Station with a beautiful design and unique it can store two kinds of drinks. Anti Spill Weston Drink Station has a lid that is designed specifically to prevent the risk of spills.
Compare
QUICK SHOP
1516017
Sugar Tong for picking up and serving sugar cubes made from all types of sugar Spring action easily picks up cubes then returns to the open position Great for cubes made from granulated sugar, sugar in the raw, turbinado sugar, brown sugar and sugar substitutes, even homemade sugar cubes
Compare
QUICK SHOP