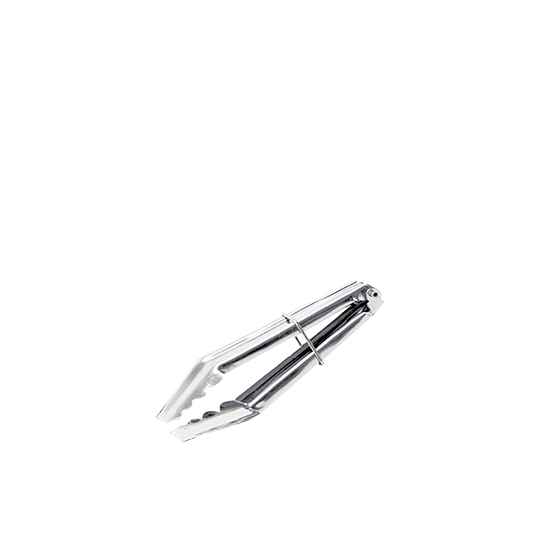 Mini Locking Tongs 9cm
sku: 2716070
Mini cocktail tongs

Stainless steel

Sliding loop lock

Great for picking up lemon slices, ice cubes, olives and cherries
Additional Information
| | |
| --- | --- |
| Material | Stainless Steel |
| Color | Silver |
| Dimensions | 90 mm |
RELATED ITEMS
1019057
Stainless Steel Salad Tong are great for serving salads, vegetables, or hot foods. With its polished design and versatile function, these serving tongs are a stylish alternative to traditional serving utensils.
Compare
QUICK SHOP
0817072
With smooth rounded corners and a seamless construction, this Rectangular Tray 18″ offers a sleek, sophisticated backdrop for your most popular culinary masterpieces.
Compare
QUICK SHOP
0817077
Every product that Zebra Thailand manufactures is the highest possible "Quality". Made in Bangkok in their ISO 9001 certified factory, the idea that a product could be made for a lower cost using inferior materials doesn't matter to Zebra. They've built a reputation based on 100% quality & design, and it really shows. Everything is made to last 50+ years. In many ways, Zebra quality reminds us of products made in America decades ago, before…
Compare
QUICK SHOP
1613046
Keep your drinking water with Twin Weston Station that can be used for parties and traveling. Twin Station with a beautiful design and unique it can store two kinds of drinks. Anti Spill Weston Drink Station has a lid that is designed specifically to prevent the risk of spills.
Compare
QUICK SHOP
1111028
stainless steel copper constructed drinkware water jug pitcher to store water and use it for your good health. That would add to the pure pleasure! This is an essential item of tableware.
Compare
QUICK SHOP
1516040
Use this 6″ stainless steel tong for buffets and self-serve stations at your restaurant or catered event. This tong's rigid grips are perfect for selecting fruit, vegetables, cheese cubes, deli meat cubes, candies, garnishes, salad toppings, and other cold foods. Thanks to its 6″ length, this tong is easily manageable while keeping guests' or servers' hands safely away from your food! Made of stainless steel, this durable tong is built to last! Plus, its simple…
Compare
QUICK SHOP
0817068
Deep round tray with diameter 9 inches and 2 inches deep, for containing food, preparing food
Compare
QUICK SHOP