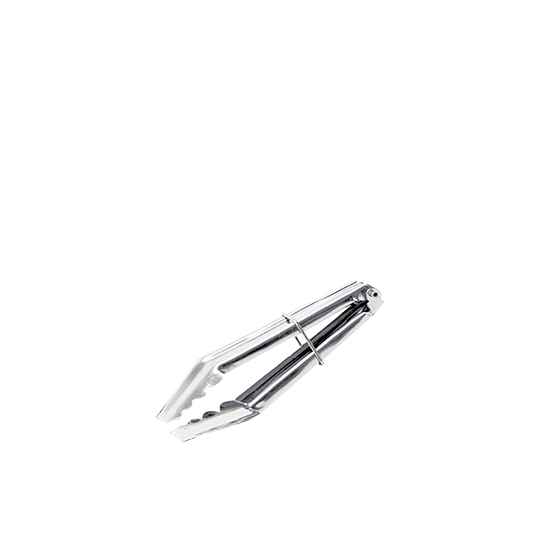 Mini Locking Tongs 9cm
sku: 2716070
Mini cocktail tongs

Stainless steel

Sliding loop lock

Great for picking up lemon slices, ice cubes, olives and cherries
Additional Information
| | |
| --- | --- |
| Material | Stainless Steel |
| Color | Silver |
| Dimensions | 90 mm |
RELATED ITEMS
0818121
These are accessible with us in various terms to meet the requirements of our domestic customers. These chemicals are pure as they are procured from pure chemical substance.  These give constant, undisturbed, uniform blue flame without any deposition of soot or smoke. This is basically a fluid kind of gel that is used for various purposes.
Compare
QUICK SHOP
0911086
Made of durable corrosion resistant shiny finished stainless steel material Can be conveniently stored on pot rim or hung on rack Used for small condiments, or large soup pots Dishwasher safe and easy to clean
Compare
QUICK SHOP
0817068
Deep round tray with diameter 9 inches and 2 inches deep, for containing food, preparing food
Compare
QUICK SHOP
0815047
This product is composed of: 18/10 stainless steel cover, chromeplated warmer & rack, and ovenproof glass dish. A beautiful master piece on the buffet table for parties and family gatherings. Ideal gift to family and friends too.
Compare
QUICK SHOP
0817066
With smooth rounded corners and a seamless construction, this Rectangular Tray 12″ offers a sleek, sophisticated backdrop for your most popular culinary masterpieces.
Compare
QUICK SHOP
2365002
This sleek dual bowl beverage dispenser will accentuate any beverage station at a catering event. This drink dispenser features two 8 liter bowls with clear walls to allow contents to be attractively displayed and viewed for easy identification. It also has an ice tube to keep beverage contents chilled without watering down your beverage, and the drip tray promotes mess-free counter space. Constructed of stainless steel and durable polycarbonate, this dispenser is great for frequent,…
Compare
QUICK SHOP
1613046
Keep your drinking water with Twin Weston Station that can be used for parties and traveling. Twin Station with a beautiful design and unique it can store two kinds of drinks. Anti Spill Weston Drink Station has a lid that is designed specifically to prevent the risk of spills.
Compare
QUICK SHOP
1019056
Useful in any kitchen and particularly important for pasta preparation, this stainless steel spaghetti tong is an essential item for any commercial kitchen.
Compare
QUICK SHOP