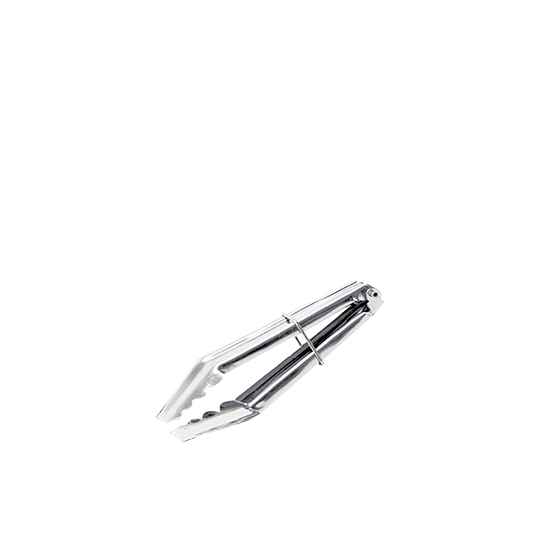 Mini Locking Tongs 9cm
sku: 2716070
Mini cocktail tongs

Stainless steel

Sliding loop lock

Great for picking up lemon slices, ice cubes, olives and cherries
Additional Information
| | |
| --- | --- |
| Material | Stainless Steel |
| Color | Silver |
| Dimensions | 90 mm |
RELATED ITEMS
0815047
This product is composed of: 18/10 stainless steel cover, chromeplated warmer & rack, and ovenproof glass dish. A beautiful master piece on the buffet table for parties and family gatherings. Ideal gift to family and friends too.
Compare
QUICK SHOP
0817073
Every product that Zebra Thailand manufactures is the highest possible "Quality". Made in Bangkok in their ISO 9001 certified factory, the idea that a product could be made for a lower cost using inferior materials doesn't matter to Zebra. They've built a reputation based on 100% quality & design, and it really shows. Everything is made to last 50+ years. In many ways, Zebra quality reminds us of products made in America decades ago, before…
Compare
QUICK SHOP
2315001
This coffee urn is an elegant, affordable addition to your catering, buffet, or hotel foodservice operation. It is used to hold hot beverages such as milk, tea and coffee. Its durable, solid legs and welded construction makes this piece perfect for everyday use.
Compare
QUICK SHOP
2365002
This sleek dual bowl beverage dispenser will accentuate any beverage station at a catering event. This drink dispenser features two 8 liter bowls with clear walls to allow contents to be attractively displayed and viewed for easy identification. It also has an ice tube to keep beverage contents chilled without watering down your beverage, and the drip tray promotes mess-free counter space. Constructed of stainless steel and durable polycarbonate, this dispenser is great for frequent,…
Compare
QUICK SHOP
1516017
Sugar Tong for picking up and serving sugar cubes made from all types of sugar Spring action easily picks up cubes then returns to the open position Great for cubes made from granulated sugar, sugar in the raw, turbinado sugar, brown sugar and sugar substitutes, even homemade sugar cubes
Compare
QUICK SHOP
0911086
Made of durable corrosion resistant shiny finished stainless steel material Can be conveniently stored on pot rim or hung on rack Used for small condiments, or large soup pots Dishwasher safe and easy to clean
Compare
QUICK SHOP
0812151
Our stainless steel rice serving bowl is made by Zebra-Head using the finest materials and craftsmanship. It has a nice heavy, solid feel. Superior quality overall, will last for many years. Pictures are hard to capture the high quality. The lid feels strong and the top knob has a beautiful "Zebra Thailand" stamp in both English and Thai, with the Zebra logo. The bowl has nice flared handles for ease of carry, and the wide,…
Compare
QUICK SHOP
1019057
Stainless Steel Salad Tong are great for serving salads, vegetables, or hot foods. With its polished design and versatile function, these serving tongs are a stylish alternative to traditional serving utensils.
Compare
QUICK SHOP