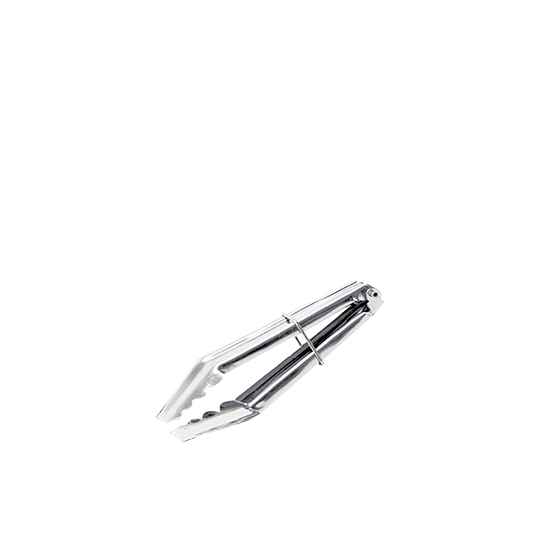 Mini Locking Tongs 9cm
sku: 2716070
Mini cocktail tongs

Stainless steel

Sliding loop lock

Great for picking up lemon slices, ice cubes, olives and cherries
Additional Information
| | |
| --- | --- |
| Material | Stainless Steel |
| Color | Silver |
| Dimensions | 90 mm |
RELATED ITEMS
2012016
Made of sturdy stainless steel, this punch bowl is built to last. The mirror finish adds shine and an elegant flair to any display. Featuring an ample capacity to minimize refills, this stainless steel punch bowl is an ideal addition to any banquet, reception, hotel lobby, or party.
Compare
QUICK SHOP
1516042
Use this 10″ stainless steel tong for buffets and self-serve stations at your restaurant or catered event. This tong's rigid grips are perfect for selecting fruit, vegetables, cheese cubes, deli meat cubes, candies, garnishes, salad toppings, and other cold foods. Thanks to its 10″ length, this tong is easily manageable while keeping guests' or servers' hands safely away from your food! Made of stainless steel, this durable tong is built to last! Plus, its simple…
Compare
QUICK SHOP
0911086
Made of durable corrosion resistant shiny finished stainless steel material Can be conveniently stored on pot rim or hung on rack Used for small condiments, or large soup pots Dishwasher safe and easy to clean
Compare
QUICK SHOP
1516017
Sugar Tong for picking up and serving sugar cubes made from all types of sugar Spring action easily picks up cubes then returns to the open position Great for cubes made from granulated sugar, sugar in the raw, turbinado sugar, brown sugar and sugar substitutes, even homemade sugar cubes
Compare
QUICK SHOP
1019057
Stainless Steel Salad Tong are great for serving salads, vegetables, or hot foods. With its polished design and versatile function, these serving tongs are a stylish alternative to traditional serving utensils.
Compare
QUICK SHOP
1111028
stainless steel copper constructed drinkware water jug pitcher to store water and use it for your good health. That would add to the pure pleasure! This is an essential item of tableware.
Compare
QUICK SHOP
1019056
Useful in any kitchen and particularly important for pasta preparation, this stainless steel spaghetti tong is an essential item for any commercial kitchen.
Compare
QUICK SHOP